Monday, October 22, 2007
Customer Testimonial
We just received a very nice follow-up testimonial from a customer of ours.
Almost two years ago, Lou sent us the following testimonial of our Menzerna products--


"I finally got the opportunity to apply the Menzerna products I ordered. Here's a photo of my 2006 Mazda MX-5 after 2 coats of One-step Acrylic Jacket, a coat of High Gloss Acrylic Shield and Gel 7.5 Tire and Wheel Cleaner. I must say that all you people said of these products was 100% true. I hope the picture gives you a good idea of how the finished car came out. I can tell you that I am extremely happy. I also applied the same products to my 2005 Pontiac Gran Prix but, being silver, it doesn't show up in pictures as great as it really looks. Thanks."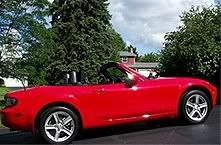 Here's the e-mail we just received from Lou and a new picture of his red MX-5.
"This is a recent photo of my now 2 year old Mazda MX-5 that I have faithfully used your Menzerna products to keep it looking great and as you can see one look says it all.This is the same car that you have pictured in your internet ad from when the car was brand new 2 years ago. "


Thanks, Lou!
We love getting customer feedback like this.
Keep up the good work!


posted by The Detailing Guru @ 10/22/2007 02:02:00 PM


More news from the upcoming SEMA show.
Just a reminder to "stay tuned" to this blog for news from the upcoming SEMA show in Las Vegas.
We will be providing you with exclusive "behind the scenes" reports from the show floor.

Our friends over at jalopnik.com have posted this article about Ford doing a set of customs for the SEMA show. The custom 1951 F-Series truck is especially sweet.



From www.jalopnik.com

Ford's SEMAfication continues, with a set of contract customs focusing on the company's trucks, SUVs and crossovers. It's just the latest example of the marketing juggernaut the massive Las Vegas aftermarket products show has become. Ford's latest include tuner-tart F-150s from ATS Design, K Daddyz Kustoms and its own Ford Vehicle Personalization team, a Lincoln MKX by Barry's Speed Shop, an Escape from FMS, and Edge from MRT-direct and a Lincoln Navigator L from DeBerti. The main event, at least for those left cold by mix-and-match catalog jobs, involves a 1951 F-Series (rendering above) created for the Make-A-Wish foundation. We'll be there, wearing one of those fruit hats like Carmen Miranda.



posted by The Detailing Guru @ 10/22/2007 08:40:00 AM


The definitive source for proper automotive detailing advise and product recommendations.
Name: The Detailing Guru
Home:
About Me:
See my complete profile
Subscribe in a reader



Previous Posts
Archives
Flash Reports
ProperAutoCare.com is YOUR source for car care products.
Visit our site for car waxes , polishes, accessories.
A word about our Privacy Policy -- Your privacy is important to us. Therefore, we do not ask for any of your personal information if you subscribe to our RSS feed. Also, we never ask you for your e-mail address as we do not market to you from this blog via e-mail.
Links